To nobody's great surprise (except my own a little bit), I received my couriered passport yesterday morning, not with a tremendously douchey stamp, but with my UK visa. Five years. Multiple entries. Ancestry, working. My name correct, my photo correct, my date of birth correct. No issues to be found.
I can't stop looking at it. My passport in its glorious leopard print case given to me by my lovely friend Marc the last time I was heading to the UK, all containing my permission to live there.
As I mentioned briefly last post, and as I imagine myself mentioning fairly consistently throughout this entire adventure (this is me both warning you ahead and apologizing in advance), you never believe it when you're actually following a dream. It seems like such an unlikely thing to do, really; it's so easy to dismiss these things as silly, unattainable, impractical. But I've accomplished so little in my life, and the last thing I wanted was to regret not doing something like this. Ten, twenty, thirty years down the line, when I've settled into whatever situation has been presented to me, the last thing I want is for London to be a dull ache in my heart, something I've had to become used to. Not when all the while it was this easy. Certainly an effort, don't get me wrong…! The effort of making it happen at all makes it so there's very little tangible proof that it's real.
Q: Hey Leslie, do you have somewhere to live yet?
A: Nope!
Q: Hey Leslie, when's your flight?
A: Not entirely sure yet.
Q: Hey Leslie, do you have a job lined up?
A: I'm actually just going to look when I get there…
You realize what a terrifying thing I'm throwing myself into, yeah? But it also makes it all the more exciting. I guess this is part of why people keep referring to me as this weird thing called "brave," which I can't quite wrap my brain around. I feel like bravery should mean not being terrified, but maybe it's being terrified and not letting it stop you. Okay, fine, I guess you can say I'm brave. I'll allow it.
I was told the other day by Christine, who recently moved from Ottawa to Scotland (a glorious human and an excellent person to speak to about both comedy and life changes), how some things work. Can't enter into the UK version of a phone contract (which I say because Canada gives us a really strange idea of what these things entail) without a bank account, can't get a bank account without an address…!, so just imagine me scrambling around for a few days and you'll get a pretty decent idea of what my life next week is going to be like.
Next week, by the way.
I haven't booked my flight yet (classic Leslie) because, ha ha ha ha ha ha ha haaaaaaaa, I was just gearing up to do so when I went to get my credit card and found it wasn't in its place in my wallet, wasn't in my purse, wasn't in my jacket pocket, wasn't in any of my pockets. I called and cancelled it and was told I'd get my new one hopefully by the end of this week. That done and me about to go out to lunch with glorious human being Kristin, I happened to look at my wallet and found the now-void credit card in a really odd spot. So that was extremely annoying. I nearly called them back, but the voice of the lady on the other end of the line echoed in my head: If you find it, cut it up. If you find it, cut it up. If you find it…
So I'll book my flight when I get my new card. And the day I book it for will be March 13th. Which is next Wednesday. Which is really soon. I tentatively packed one suitcase yesterday and, just as I suspected I would, ended up unpacking it today. I laid everything I intend to take out on the dining room table, and it makes a slightly startling scene.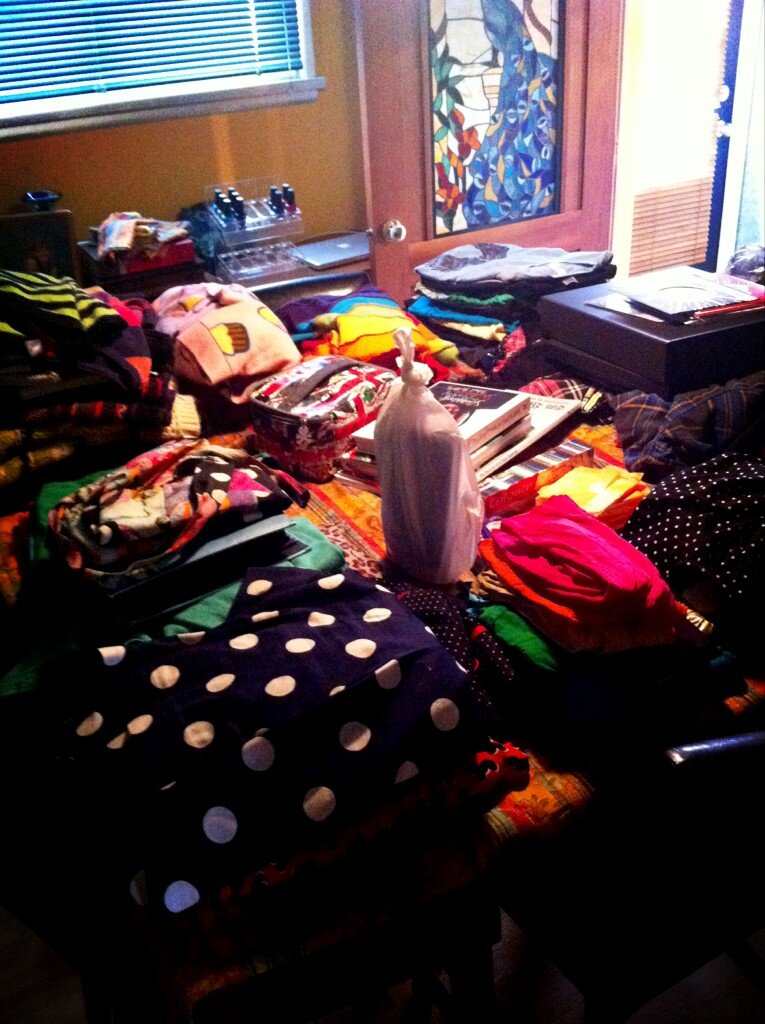 My best friend Nidal suggested that I "just take the brightest things" but, surprising to no one, that doesn't really narrow it down. My parents have said I can store some things, anyway, so when I'm back to visit I'll just be sure to leave some room in my suitcase.
I spent a great deal of today digging through all the boxes I have in the garage, and will do the same tomorrow. A lot of things were water damaged, which would be upsetting to me if my set of circumstances wasn't exactly this, but it is, and so anything that's ruined is easier to get rid of, and anything I can get rid of is a giant bonus.
It's my intention to get as much done as I possibly can over the course of this week, and spend the weekend being incredibly social. Last weekend living in Ottawa, after all! I'll believe it once I actually book the plane ticket. Maybe.